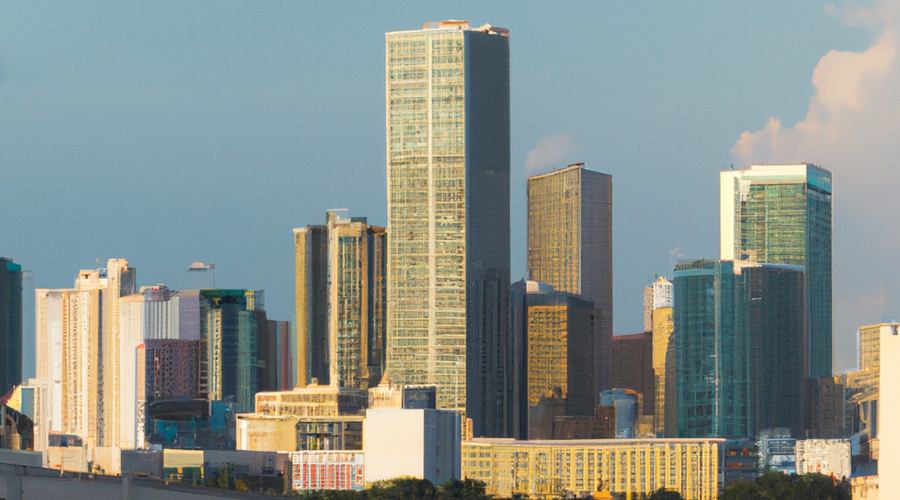 Starting a Business in Miami: A Step-by-Step Guide to Success
Making Waves in Miami: A Comprehensive Guide to Starting Your Own Business in the Magic City
Miami is a thriving city, known for its beautiful beaches, vibrant culture, and entrepreneurial spirit. It's no wonder that many people are interested in starting a business in Miami. Whether you are looking to start a new venture or relocate your existing business to Miami, there are several things you need to know to get started.
We'll take you through the steps of starting a business in Miami, including choosing a business structure, obtaining necessary licenses and permits, finding funding, and networking with other entrepreneurs.
Choosing a Business Structure
Before you start your business, you need to decide on the legal structure that is right for you. The most common types of business structures are sole proprietorship, partnership, limited liability company (LLC), and corporation.
Sole proprietorship is the simplest type of business structure. It is easy to set up and manage, but it offers no protection for personal assets. In a sole proprietorship, you are personally liable for all debts and obligations of the business.
A partnership is a business structure that involves two or more people. Each partner contributes to the business and shares in the profits and losses. Like a sole proprietorship, a partnership offers no protection for personal assets.
An LLC is a hybrid business structure that combines the liability protection of a corporation with the tax benefits of a partnership. In an LLC, the owners (called members) are not personally liable for the debts and obligations of the business.
A corporation is a separate legal entity from its owners. This structure provides the most protection for personal assets, but it is also the most complex to set up and manage. A corporation is owned by shareholders, who elect a board of directors to manage the company.
Obtaining Licenses and Permits
Once you have decided on your business structure, you need to obtain the necessary licenses and permits to operate your business legally in Miami. The specific licenses and permits you need depend on the type of business you are starting.
To find out what licenses and permits you need, visit the City of Miami's Business Portal. Here, you can search for your business type and find a list of licenses and permits you need to obtain. You can also apply for the necessary licenses and permits online.
Finding Funding
Starting a business requires capital, and finding funding can be one of the most challenging aspects of starting a business. Fortunately, there are several options for funding your business in Miami.
Small Business Administration (SBA) Loans: The SBA offers a variety of loan programs for small businesses, including the 7(a) Loan Program and the Microloan Program. These loans can be used for a variety of purposes, such as purchasing equipment or inventory, expanding your business, or refinancing debt.
Crowdfunding: Crowdfunding allows you to raise money for your business by soliciting small contributions from a large number of people. There are several crowdfunding platforms, such as Kickstarter and Indiegogo, that you can use to launch a crowdfunding campaign.
Angel Investors: Angel investors are wealthy individuals who invest in early-stage businesses in exchange for equity. To find angel investors in Miami, attend networking events and pitch your business to potential investors.
Networking
Networking is crucial for any entrepreneur, especially those starting a business in a new city. Miami has a thriving entrepreneurial community, and there are several organizations and events you can attend to meet other entrepreneurs and business leaders.
Startup Miami: Startup Miami is a community of entrepreneurs, investors, and business leaders who are committed to fostering innovation and entrepreneurship in Miami. They host a variety of events, such as pitch competitions and networking events, that are open to anyone interested in entrepreneurship.
Miami Entrepreneurs Network: The Miami Entrepreneurs Network is a group of entrepreneurs who meet regularly to network, share ideas, and provide support to one another. They host events throughout the year
Refresh Miami: Refresh Miami is a non-profit organization that hosts monthly events and workshops for the Miami tech and startup community. These events provide opportunities for entrepreneurs to connect with investors, mentors, and other business leaders.
Get serious about creating a business in Miami
Starting a business in Miami can be an exciting and rewarding experience. However, it requires careful planning, hard work, and determination. By following the steps outlined in this article, you can set yourself up for success and take advantage of all the opportunities that Miami has to offer.
When starting a business, it's important to choose the right legal structure, obtain the necessary licenses and permits, and secure funding. It's also crucial to network with other entrepreneurs and business leaders in the community to learn from their experiences and gain valuable insights.
Miami has a vibrant entrepreneurial community, and there are many resources available to help you start and grow your business. Whether you're looking to launch a tech startup, open a restaurant, or start a small business, Miami has something to offer.
Remember, starting a business is not easy, but it can be one of the most rewarding experiences of your life. With careful planning and hard work, you can turn your dreams into a reality and build a successful business in Miami.